Research on Campus
Research on Campus
Research Facilities on Campus
Munich offers one of the most dynamic and rapidly growing life science research environments in Germany. The numerous internationally renowned research groups from the Munich Universities, MPIs and the Helmholtz Center Munich lay a solid foundation for the region's outstanding reputation. The life science campus Martinsried-Großhadern is a hotbed of scientific activity and provides excellent opportunities and outstanding facilities to researchers at all levels. New research facilities have recently been, and continue to be, constructed, and several hundred million € have been invested during the last few years. The latest additions to the campus include the BMC (Biomedical Center), which houses basic research groups of the LMU Medical Faculty, the DZNE Munich (German Center for Neurodegenerative Diseases) and the Center for Molecular Biosystems, LMU. The new research facilities and institutes complement already existing institutes, which include the MPI of Biochemistry, the MPI of Biological Intelligence (i.f.), the LMU Biocenter, the LMU Gene Center, the LMU university hospital and several research facilities of the Helmholtz Center Munich. The life science campus Martinsried-Großhadern  continues to grow and the newest additiom, the Institute for Chemical Epigenetics (ICEM), LMU has been finished in 2021.
Please watch the movie about the campus Großhadern-Martinsried published by CIPSM to get a nice impression of the research campus.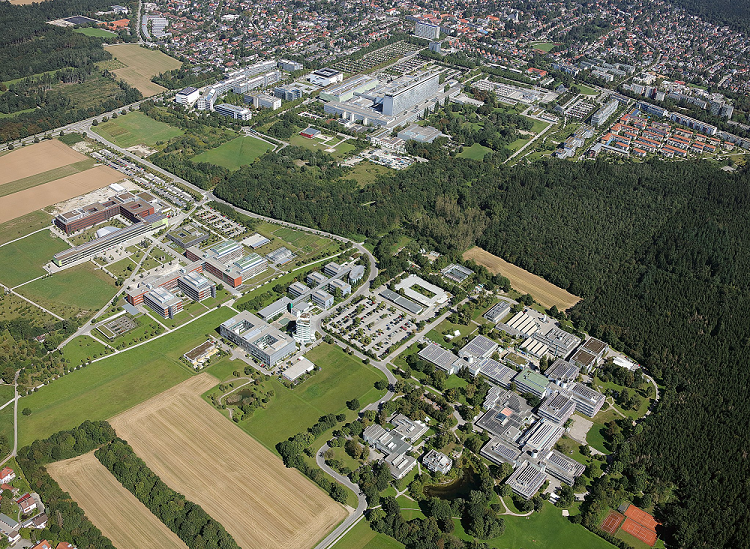 Research campus Martinsried-Großhadern (picture IZB2017 • CC BY-SA 4.0)

Research Networks on Campus
Over the last decade, substantial efforts have been made to enhance and facilitate scientific collaboration at all levels. IMPRS-LS faculty members are heavily engaged in local, national and international scientific collaboration through a variety of networks. These include the Excellence Clusters CIPSM (Center for Integrated Protein Science Munich) and SyNergy (Munich Cluster for Systems Neurology) as well as the networks MCN (Munich Center for Neurosciences), BCCN (Bernstein Center for Computational Neuroscience) and CeNS (Center for NanoScience) that bring together scientists from various research areas with the aim of fostering interdisciplinary research at the highest level. In addition, numerous DFG-funded Collaborative Research Centers (CRC), Priority Programs and EU-funded Research Networks contribute substantially to scientific cooperation and collaboration on the campus.